For why, I ask you lovely readers, is this day specifically singled out to be a day of sadness?

Let's not be dragged down.. The promise of spring is wafting it's way to us, yesterday we almost had a whole sunshiney walk with the pooches. And what is really cheery is to come home take off the muddy wellies and snuggle on the sofa with a mug of hot chocolate and a toasted crumpet with butter all oozing through it... Some serious mmmms.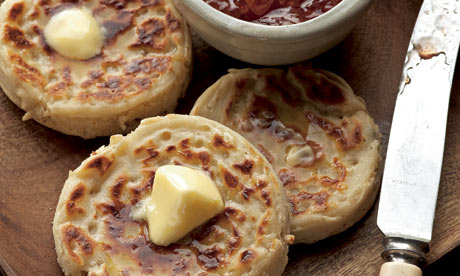 I must give this
recipe
a go from Hugh Fearnly-Whatsit, as he says if you're tired of British teatime, you're tired of life and who are we to disagree!
If only we had an open fire.. that's the only way to toast a crumpet- sitting near to the fire as possible, toasting fork in hand. Keeping warm with your loved one as the night draws in.

Another favourite recipe that has been putting a smile our faces is this delicious
oat and raisin cookies
recipe from the marvy
Smitten Kitchen
website. It's the best we've tried as they are just the right texture of chew, I can't resist tweaking and throw in whatever I have in my dried fruit and nut cupboard. Our favourite muesli even goes in the mix, it's called
Rude Health
! See, the cookies must be good for you if they have prunes,apricots,oats and nuts in.
The tip about refrigerating the cookie dough before baking is a winner as the results never last long. The chap blames the pooch but I know they prefer chocolate chip..

Oh look Blue Monday is practically over, let's raise our teacups to a terrific Tuesday!