Exciting times at Golden Afternoon Tea Company hq, in a couple of weeks our vintage china will soon be making make it's television debut!
Yesterday we were super excited to be asked to provide an
Agatha Christie
style afternoon tea for
Kitchen Market,
a foodie magazine tv programme on the digital channel,
Good Food
.
After a very quick turnaround for cucumber sandwiches and fruit scones, I packed up a selection of tea sets, tablecloths, two teapots and the silver tiered stand and off we headed to the television studios in North London. Even the pooches came along for the ride- moral support, of course! It was great fun selecting the teacups and plates to give the perfect look, such a thrill to see the gorgeous china put to good use. Out of the teasets I brought, the producers liked an art deco shaped yellow floral pattern, and matched it with pink gilded plates. It looked delightful. The cake stand was laden with cucumber sandwiches, fruit tartlets and rose fairycakes. Perfectly fit for
Miss Marple
.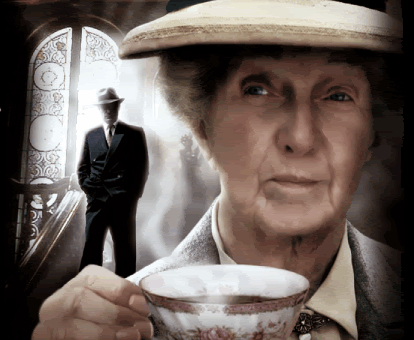 The programme will be all about the intriguing connection between food and crime. Maybe it's Jack the Ripper's favourite sandwich filling or the best grub to fill up on before a bank heist- who knows? You will have to tune in to find out!
The afternoon tea we created set the scene for a discussion with the prolific crime writer,
Martina Cole
on Miss Marple and Agatha Christie. As quintessentially English as the afternoon tea tradition, Miss Marple,in tweed, always unravels the murder as she sips from her china teacup.
Love this clip- two scenes of tea drinking within nine minutes! And not to mention the sherry...
Kitchen Market will be aired at 7pm on March 16th on the digital channel Good Food, do tune in to see our afternoon tea hit the airwaves!
We may even have a celebratory tea party, put the fizz on ice!
And if you would like to have an Agatha Christie/ Miss Marple afternoon tea party, here's a
helpful guide
or contact us to provide it all. Although we can't guarantee any helpful detection work if anything goes wrong!